It's been a long time in the making, over a year now, as I've had a few issues along the way regarding health and relationships etc. But now I'm working on the project regularly I thought I'd break the ice and start posting up a few (million) photos I've been making over the last 15 months or so in order to give myself a kick up the arse and get it going in time for the Big Knock.
The project stems from the old 1900cc VW / Dnepr project I lashed up in almost no time at all about 6 years ago and then drove to Slovenia as its shake down run. I started the project with this as the log book is already registered with DVLA as a diesel conversion and I still have it on my insurance as a custom built bike which makes the paperwork a tad easier. I am also 'doing it properly' rather than bodging any old sh*t together, not that it will mean it won't look like a post apocalyptic abortion for that but hopefully it will function better as a machine and last longer than a season before going horribly wrong. It is also taking a million times longer to get anything done because of this decision.
Because of various issues with the previous design I decided to scrap most of what was left of it and patted my self on the back for keeping the chassis in the garden rotting for all this time to save the log book and identity that took a lot of work to get through the DVLA .
I actually started the build using a naturally aspirated engine then after obtaining a WV AFN turbo engine switched to that one which meant redoing a bunch of chassis and exhaust / inlet work. I may or may not mention in the build blog then this occurs as I will most certainly not be posting photos in strict chronological order.
The AFN engine is the one with the variable geometry turbo and 110hp as standard. That is boost is controlled by tuning the static vanes in the turbo rather than using sub optimal geometry and a waste-gate valve to prevent over boost at high power / rpm. The variable turbo will hopefully allow me to tune it to suit a bike setup and also more importantly tune it for economy. I won't mention that there are claims of people getting 150+hp with simple remapping and with simple parts changed there are claims of 200+hp as that would be irresponsible and silly. I won't also mention buying and removing another engine from a car and transporting through the mountains and Brecon Beacons behind the Z482 powered bike before realising it was the wrong edition engine as I don't admit to that sort of thing.
Since building the last bike being the Z482/ BMW conversion I have purchased several tools that will help me build this bike:
A Warco BH600 Lathe seen in some photos below.
A 25 Tonne pipe bender.
A DC inverter welder.
I then taught myself to weld aluminium with Youtube and an oxy-propane torch so expect some hilariously bad ally welding at some point.
And I also tided my shed.
I got the welder because of my failing back last year but since realise that not only are they very light indeed and can be carried around by a cripple but they are much better to weld with than the elcheapo buzz boxes from Aldi and also much cheaper to feed than a MIG as there is no monthly gas rent to buy even when you don't use it.
I'll post up the chassis development first and then over the next few weeks post up other sections as I see fit. For those of you paying attention the electronic control of the fly-by-wire VP37 diesel injection pump is not yet proven to work and will be covered in the electrics section of the forum when the time is right.
The basic overall spec as it stands at the moment is:
VW 1900cc AFN variable turbo diesel engine.
Matching VW 5 speed car gearbox.
Dnepr headstock and front chassis parts.
1200 Bandit front end.
Berlingo intercooler.
1200 bandit sports silencer
Audi TT (and others) bevel box.
Yamaha SR125 seat.
Spax Coilover shock.
Some random spring.
Volvo hub with common ford stud pattern.
Ford alloy ST170 spare wheel interchangeable with,
Ford pattern standard car wheel.
The project is far from finished but I feel a lot of the grunt work has been done so here are the front chassis parts being made.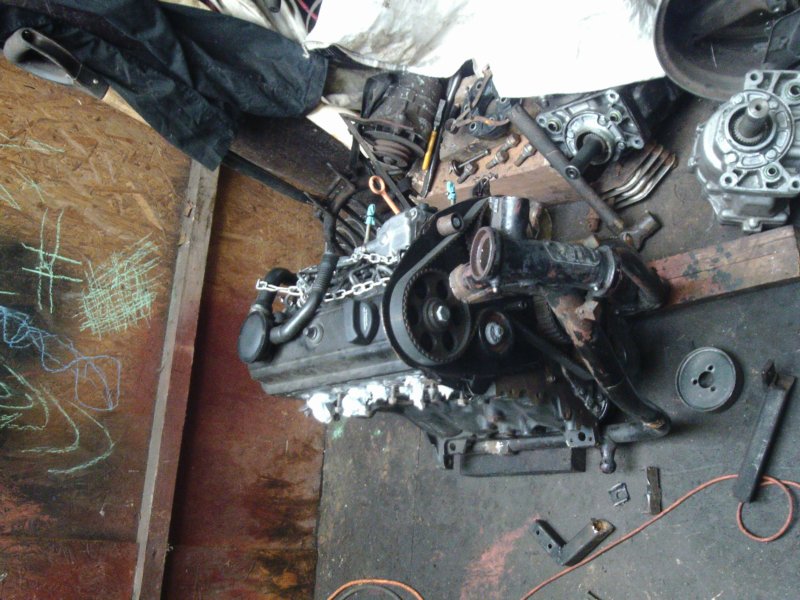 So it starts with what is left from the old 1900cc Dnepr conversion.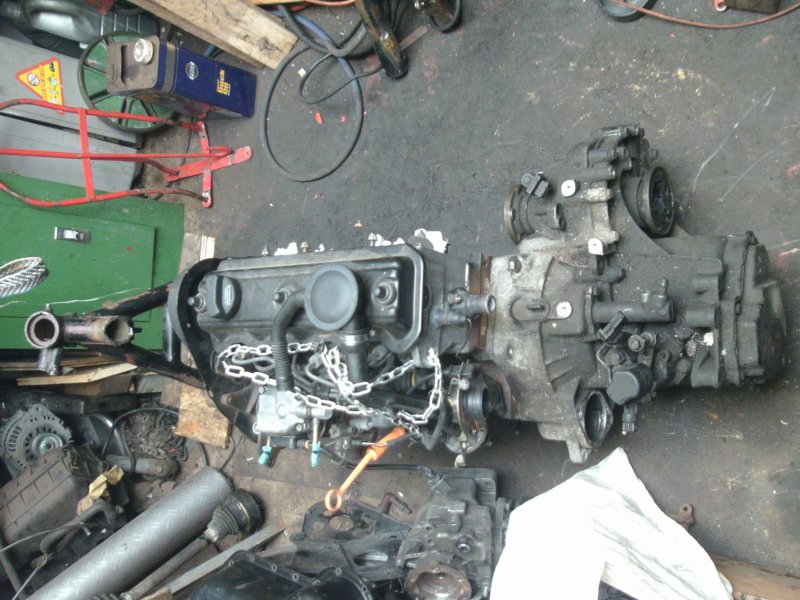 Then it is laying everything out on the floor to get an idea of scale and proportion.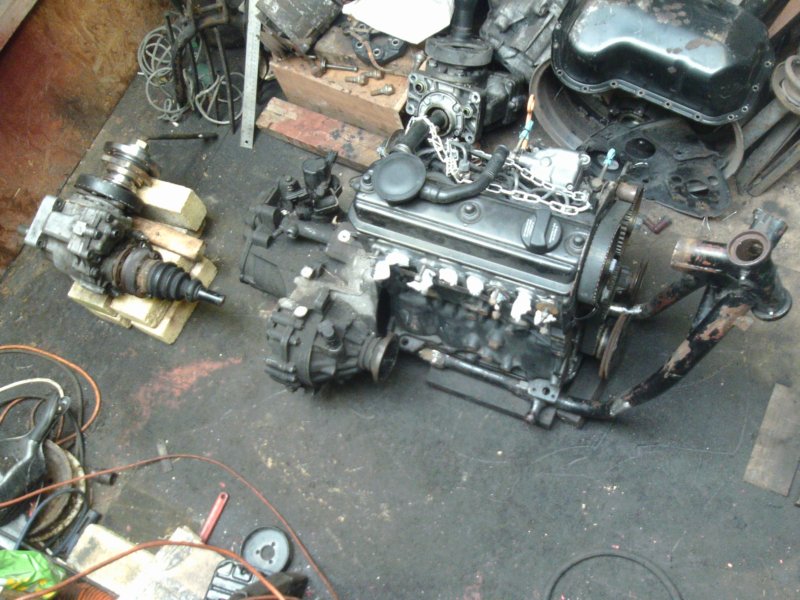 This includes the bevel box from an Audi TT and similar class car. (More about that when I come to do the transmission update but I will say it is from a car with approx 200hp so will be robust)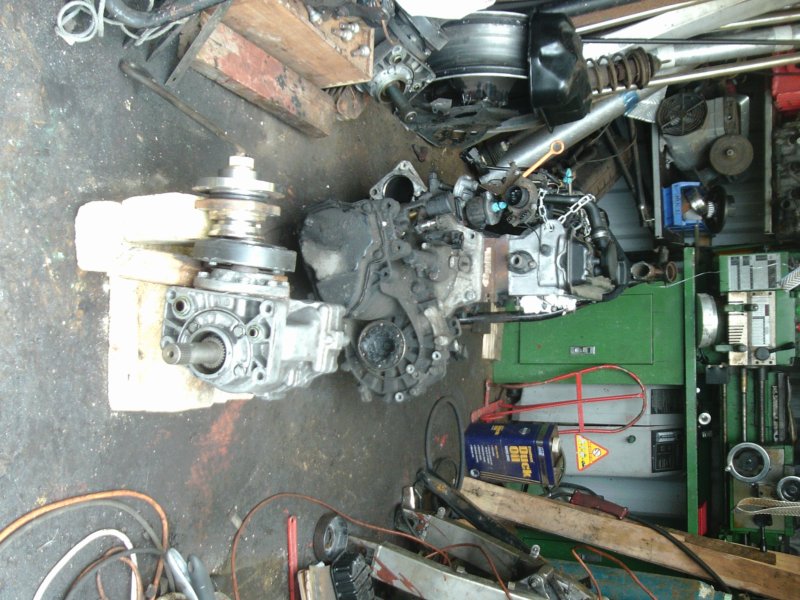 At times like this I wonder what I'm doing.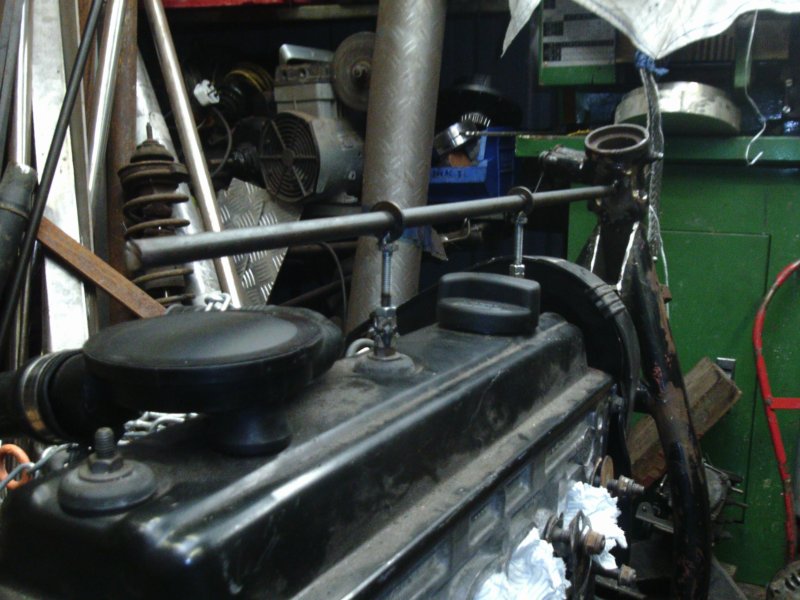 Everything is central to the engine so I made this guide thing to help alignment.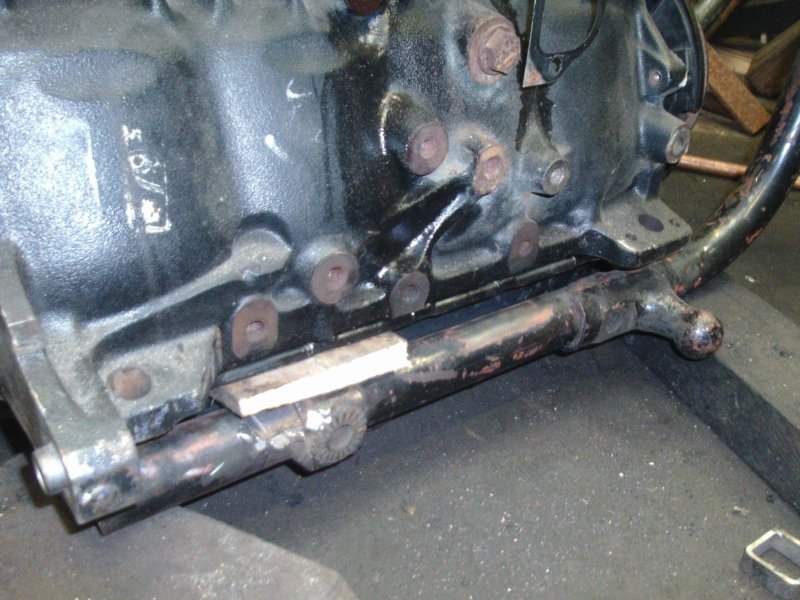 Conveniently the engine sits between the chassis tubes.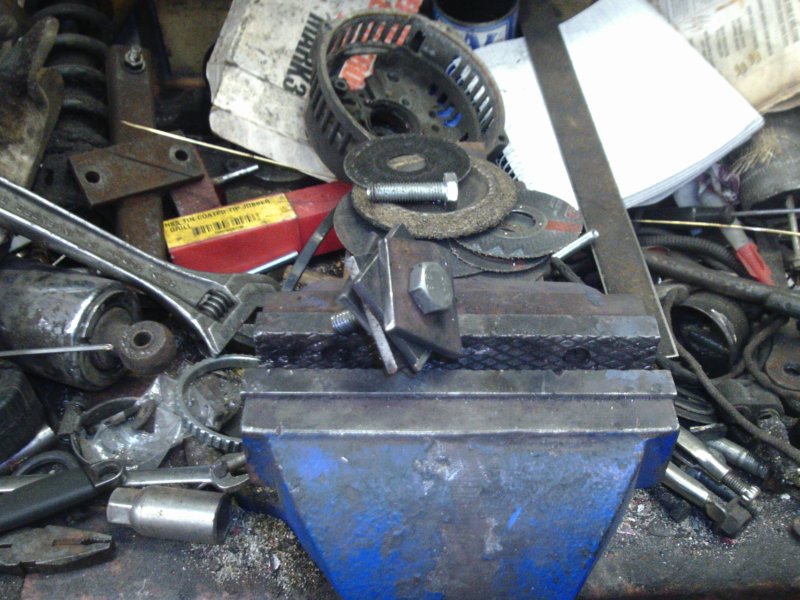 Chassis bits are fabricated.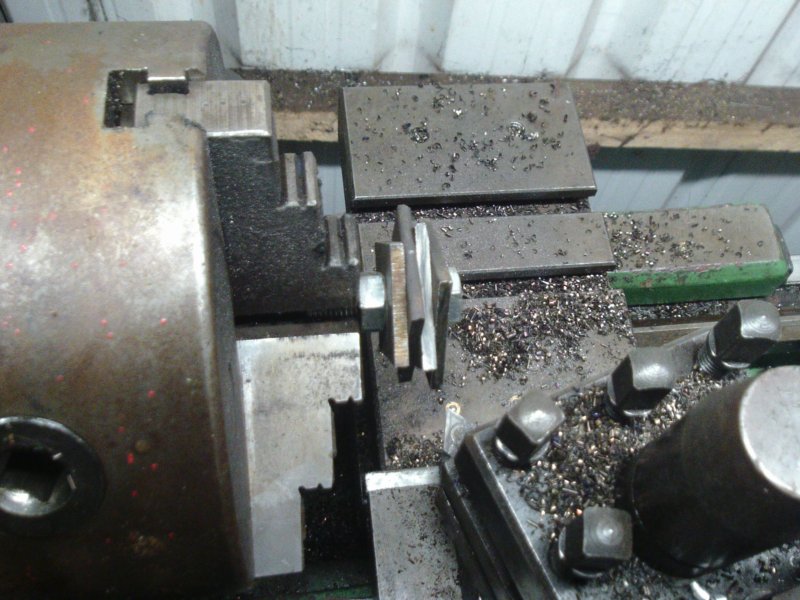 On the lathe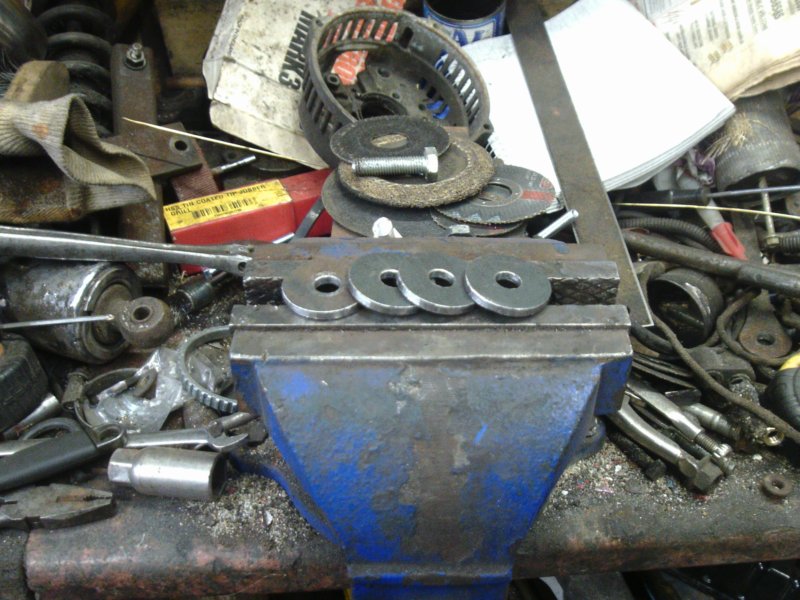 To make thick load supporting spacers.
And some sturdy mounting lugs.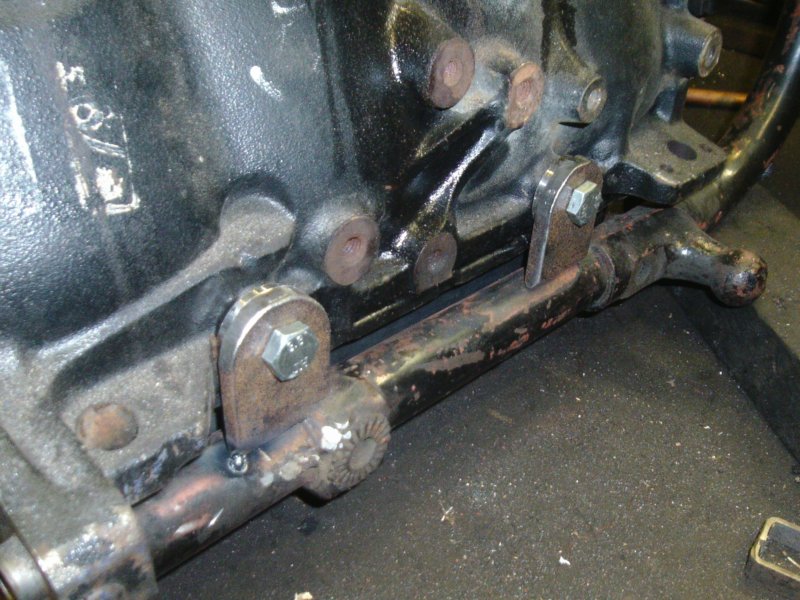 The idea is the chassis is spaced from the engine to aid removal and assembly of the chassis from the engine.
Then on to the other chassis tubes. I decided there was no chance of fitting a top tube into my design ideas so hacked it off and started making new support tubes that will attach to the engine on what I thnk are original mounting holes.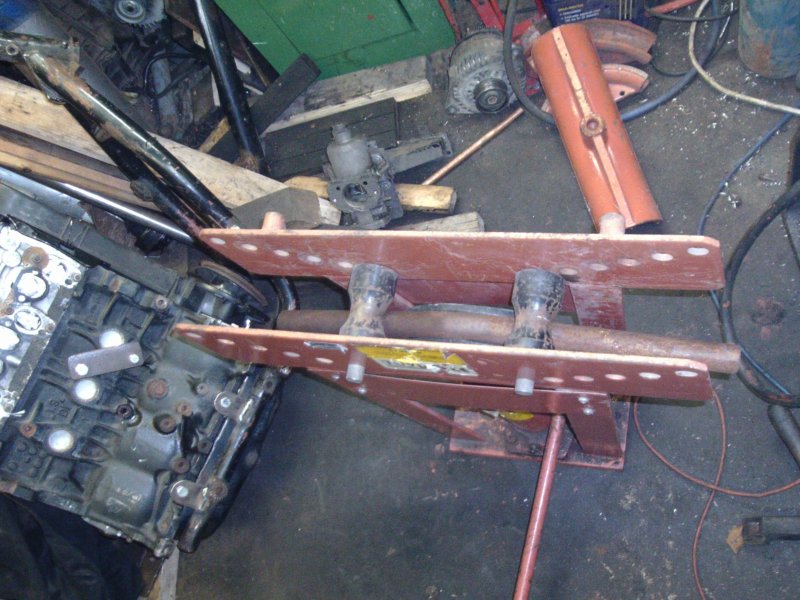 My trusty 25 tonne pipe bender gets much use at this point.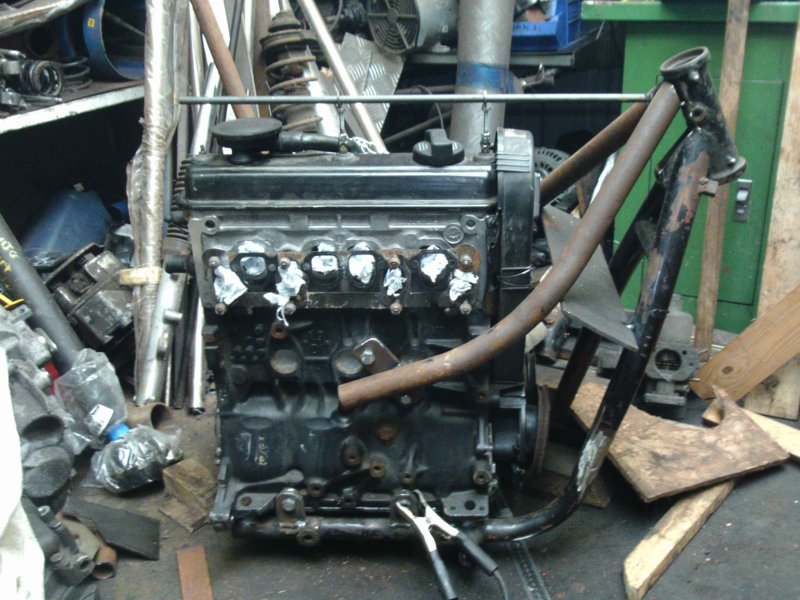 And tubes with all manner of bentness are formed mostly against their will.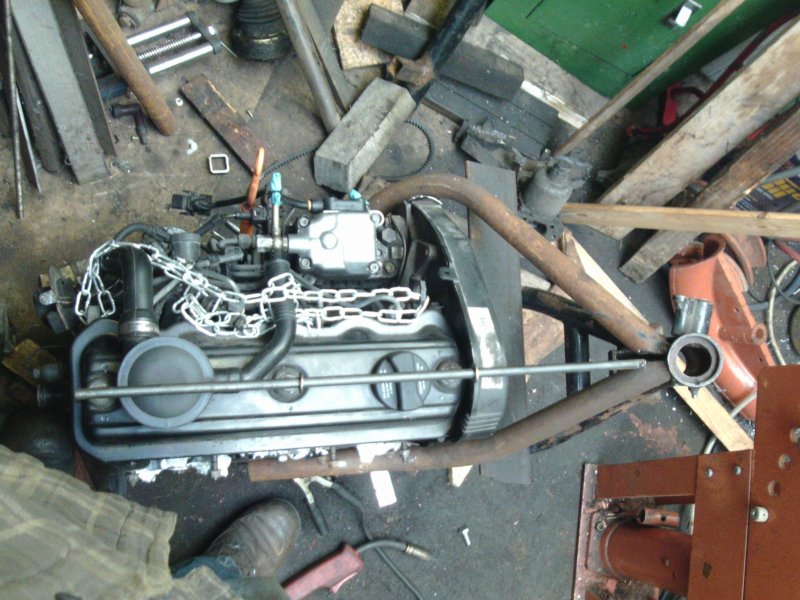 The left hand frame tube has to do a bit of a reach around to get to the mounting point behind the injection pump.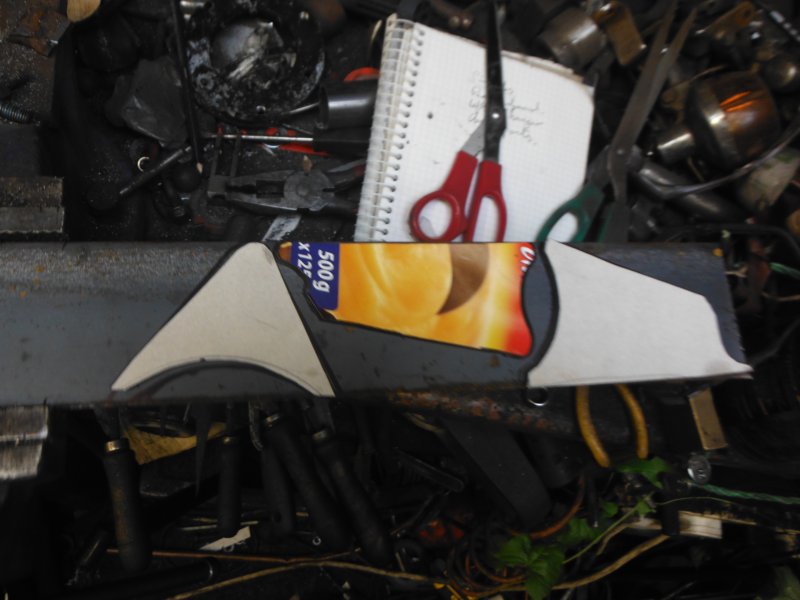 Then it was making some webbing templates and hacking them out of some thinner steel .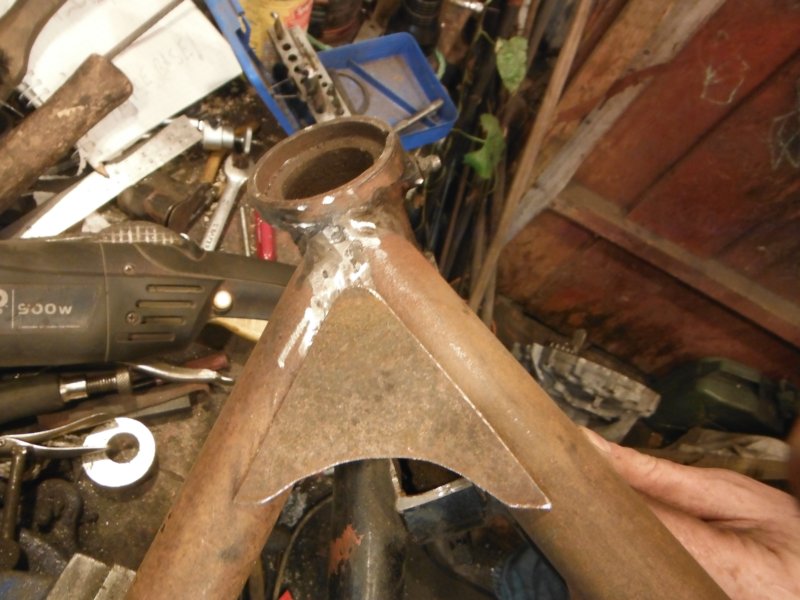 This will hopefully provide some extra strengthening,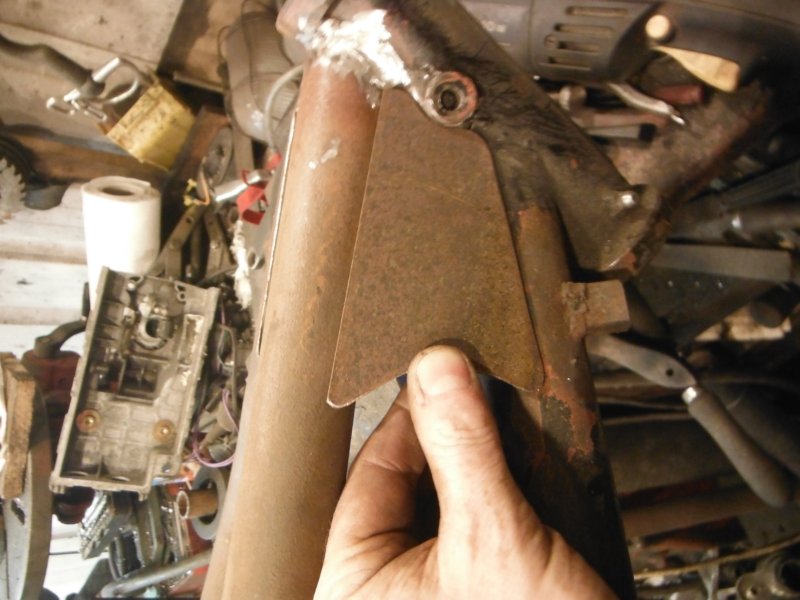 This will hopefully provide some extra strengthening,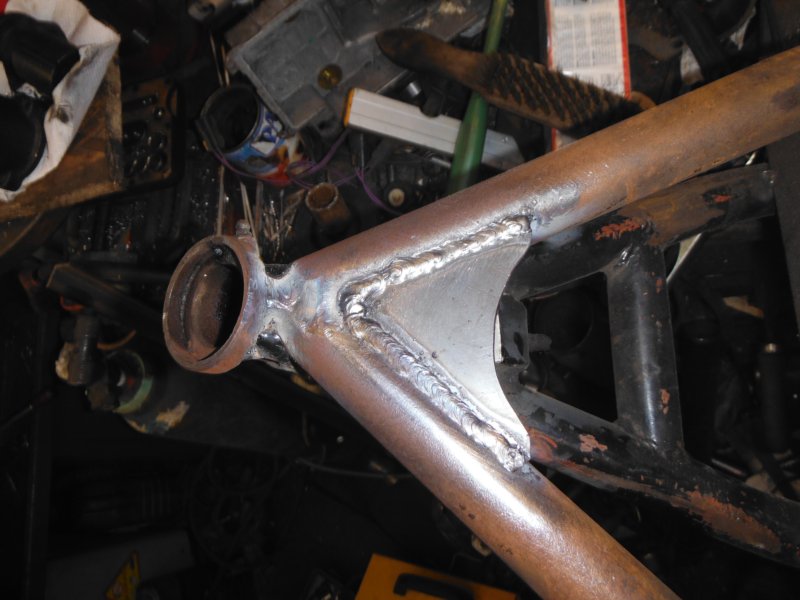 Welded up.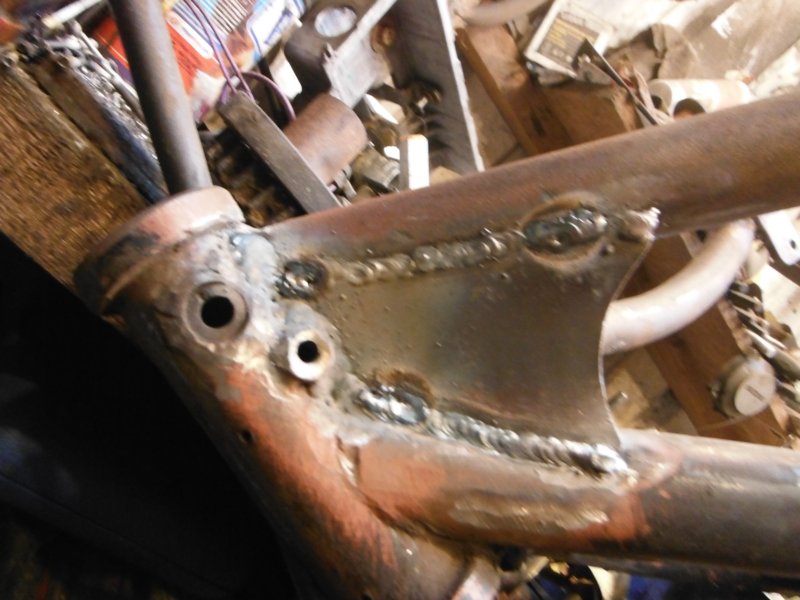 Welded up.
Well that's all for now.
I'll be up dating every week or so as time and motivation allow.