Hi!
inspired by many diesel bikes on the internet. i asked my self why cant i do this? and that's how i decided to rebuild my dnepr
this is how my bike looked last season:
Then i bought an 186F china clone approx 400cc, and started to build adapter for Dnepr gearbox: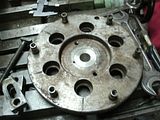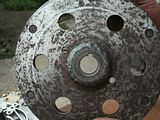 Then frame building begins: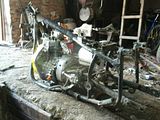 nothing cant be achieved without helpful friends!
(i am one on the left with beard
)
and some videos of the building process:
http://www.youtube.com/watch?v=zSIVDetg1MQ
http://www.youtube.com/watch?v=C3CKes3wYrU
http://www.youtube.com/watch?v=Sr4Bdjt6BEc
http://www.youtube.com/watch?v=D33PLVwSwgE