I've done enough to know the project is a goer. I've had so many no-starters that I dont normally like to post up progress until I've actually got somewhere.
The project is based on a Motorenwerk Cunewalde 2VD 8/8 - 2SVL engine, which is German and made in 1974. It is 800cc V twin air cooled and rated at 15PS on the engine plate. Its engine plate also states it weigh 125kg but I kind of suspect it is a bit more than that.
This is a Multicar M22 a typical use of the engine I have, there are many examples of the M22 multicar if you go looking
I firstly attacked the weight issue by removing all the auxiliary bits and lightened the flywheel. Stripping all the bits off also allowed me to clean it properly as the build is going to take place in the spare room of my house as I don't have a garage any more.
The flywheel was turned down on a friends lathe. It was initially 35kg and I was aiming to reduce it by 50% but only managed to loose about a third of the weight which is a starting point. I will re address lightening it some more after it is on the road and working. I went into a bit of a You Tube frenzy so the flywheel conversion is documented in video...
http://www.youtube.com/watch?v=zrZJmNuRPfo
Weighing the flywheel and assessing the modification needed to get it to take the BMW clutch
http://www.youtube.com/watch?v=3_A6l3WPTEA
Turning the beasty down. This took a whacking 9 hours in a friends lathe. I am so glad I'm not paying a workshop for this sort of thing.
http://www.youtube.com/watch?v=tn6rqwNumrw
Weighing it after modification.
http://www.youtube.com/watch?v=MgNZF0EzUNg
This is how I removed parts of the flywheel after using the lathe.
[EDIT] I estimate the engine will weigh just less than 100kg after these mods.
After getting the clutch fitted to the fly wheel I cut the BMW frame on a key weld on the spine and also cut a section out of the bottom tubes so I could get it around the engine. This was easier than I imagined and after much faffing about It looks like I'll only have to extend the frame length by about three inches.
the next series of photos is a complete mockup of a few bits to make it look bike shaped and nothing is welded or aligned properly yet.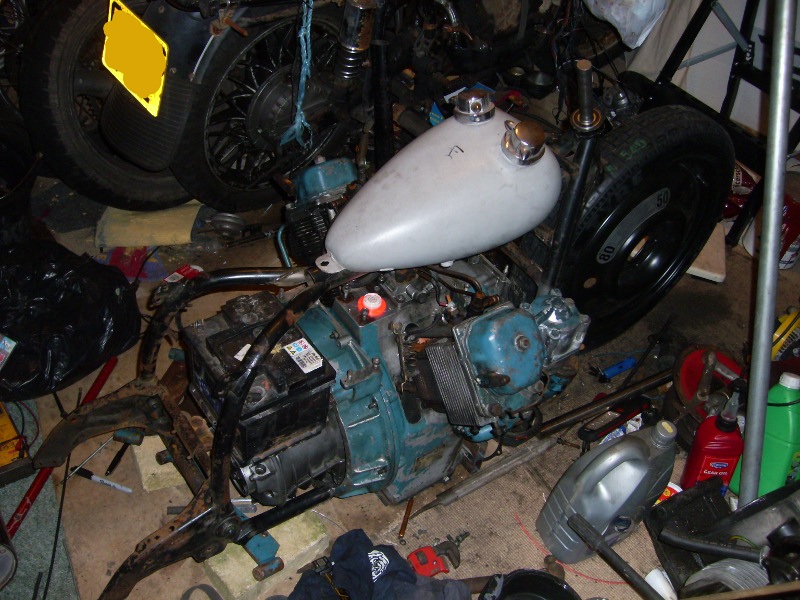 The mockup. Frame balanced around engine, chop tank in place, car battery on gearbox and Jaguar 18" space saver wheel up front. I cant remember buying the tank, it was at a show I know that much and I was with people I haven't hung about with for at least 10 years.. ....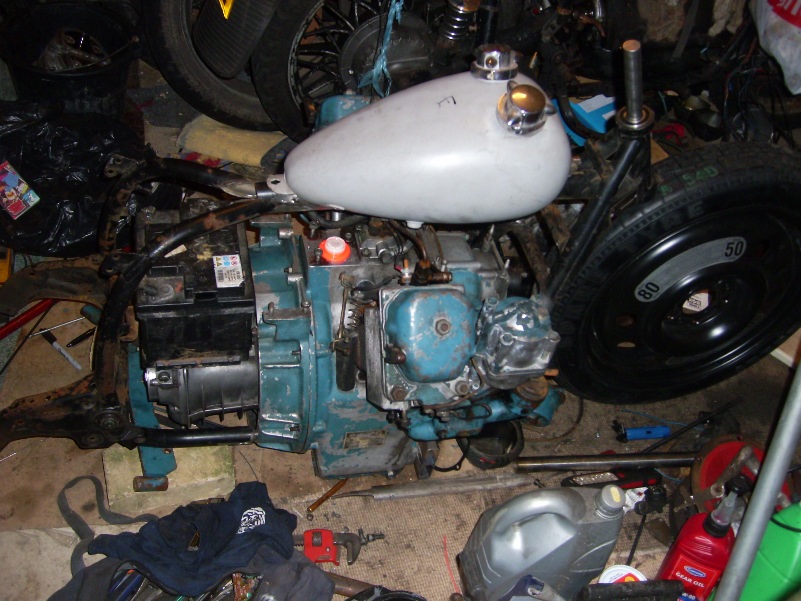 Side View: You can see its starting to look like a bike.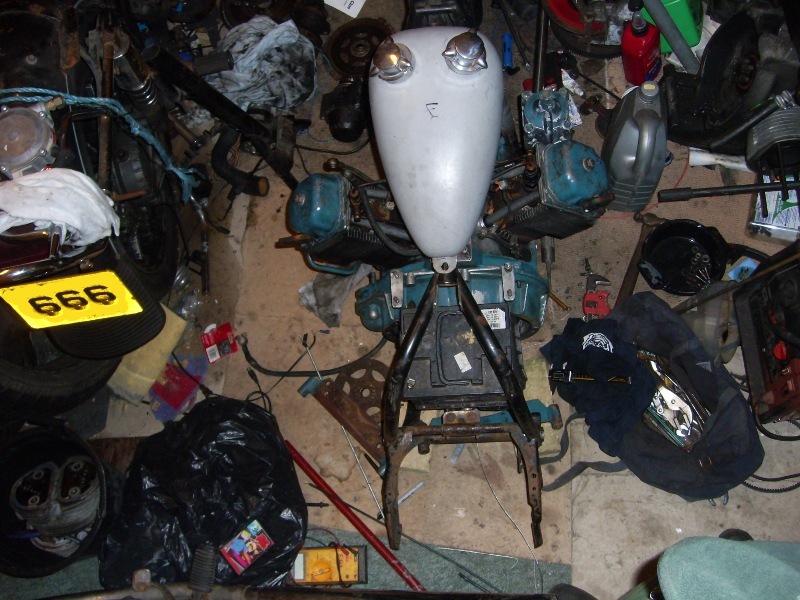 Back View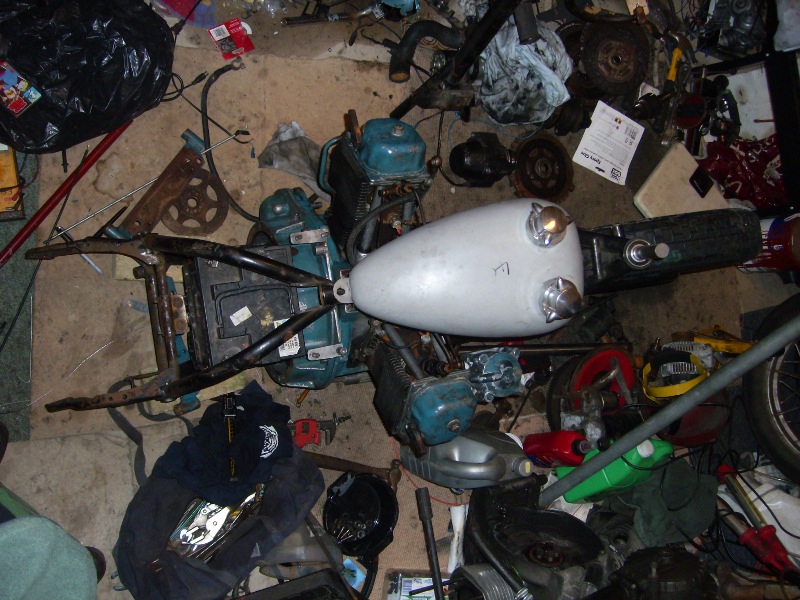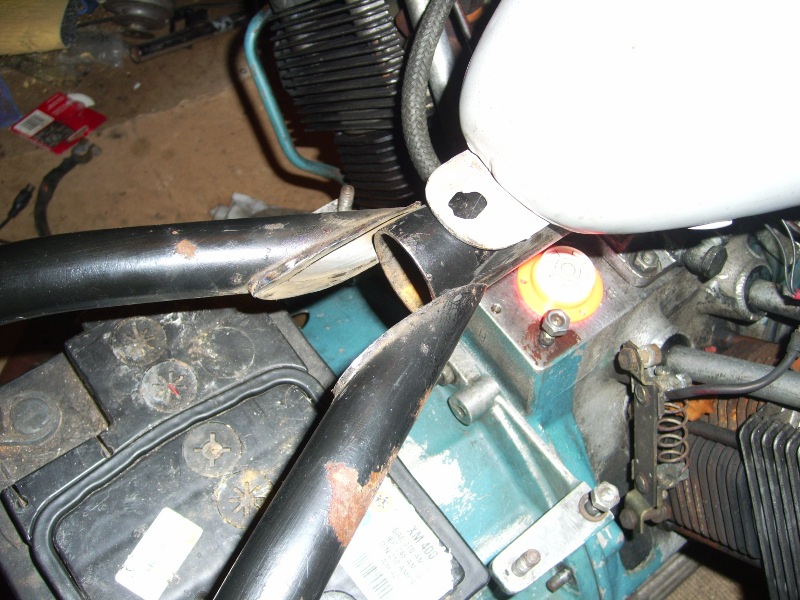 The top tube of the frame needs to be extended by about this much which is a hell of a lot less than I was expecting.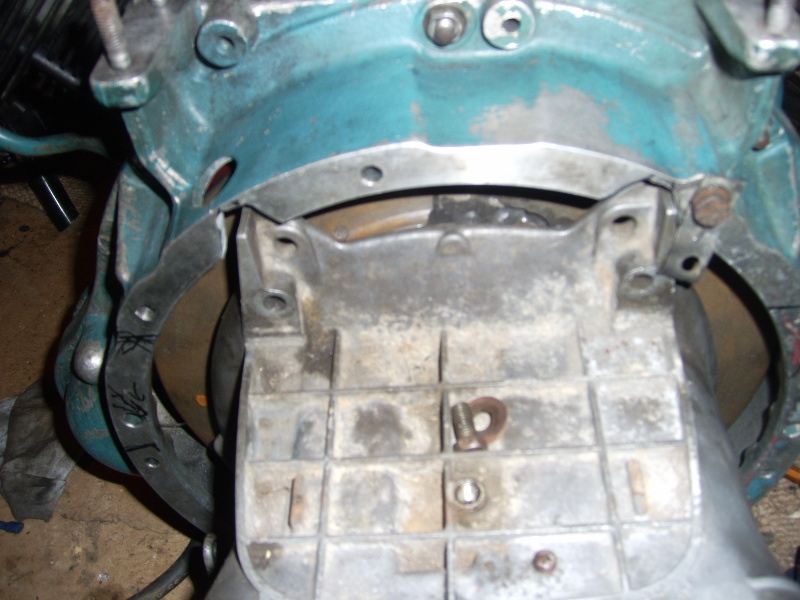 Gearbox needs to be supported within the bell housing. This is a technical problem as the shafts need to be aligned with 0.5mm (hopefully much tighter than that) as there is no provision for eccentricity in the clutch unit.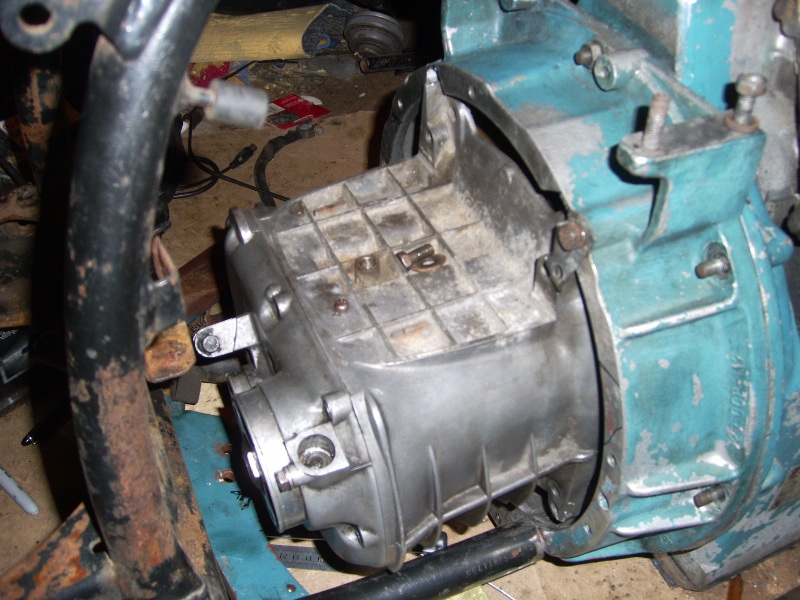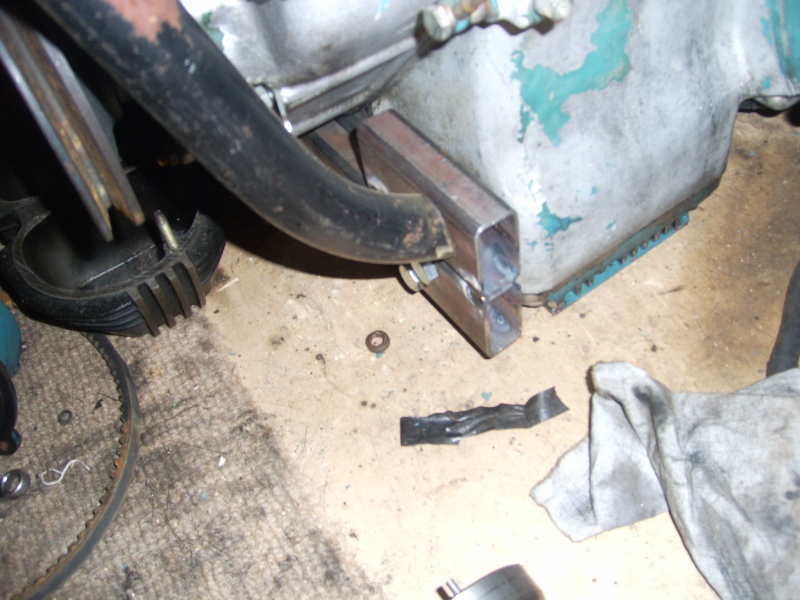 Front engine mount. Nice and sturdy as the engine is a stressed member. It bolts to the original engine support mounts.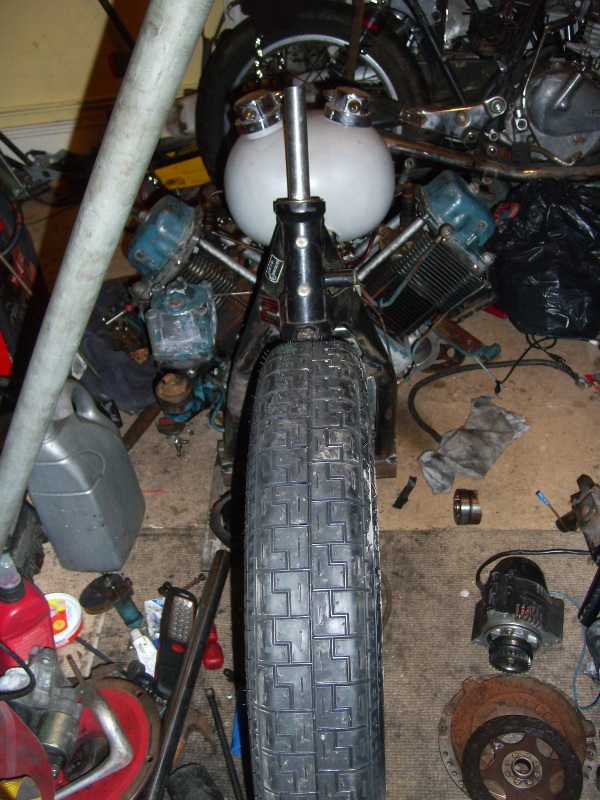 Frontal view. The engine is sitting on the floor which is about 6" or so lower than it should be which makes the front wheel look badly out of place. The wheel is a 18" jaguar space saver wheel which should take a 18" bike tyre.
You can see Suzuki GSX / GSF1200 alternator on the floor that will most probably be used as its a bit smaller than a car one which will make fitting it into the available space a lot easier.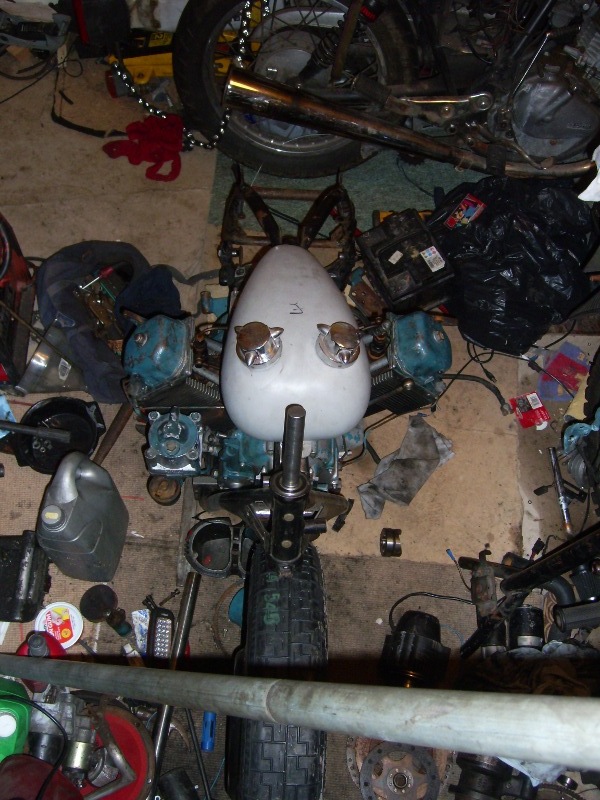 Aerial front view, things look almost in proportion.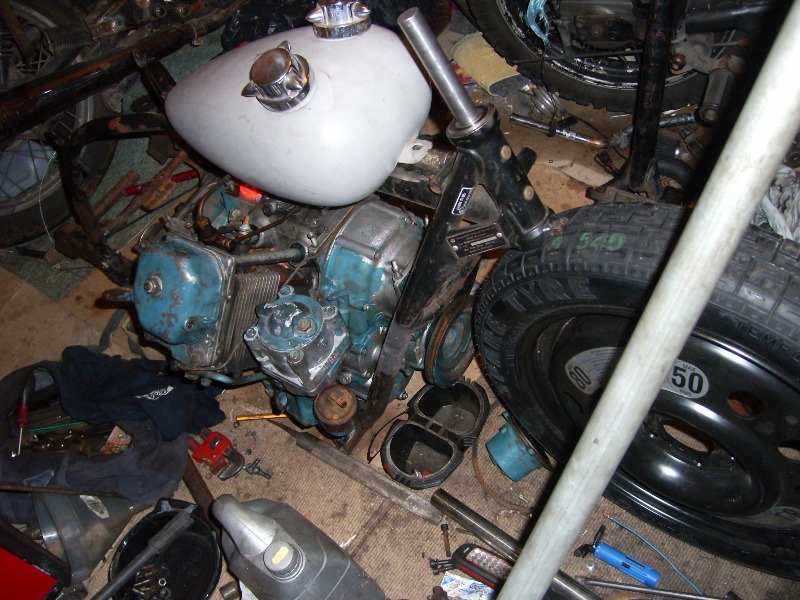 Front side view.
There is some 25mm bright bar in the headstock ready for when I start building the front end. It will be a single sided cantilever type setup, like a one sided Earls Forks. I've seen a load of the big trikes done like this and kind of like the setup.